i-LIVE – Indigenous Leading ICU Ventilator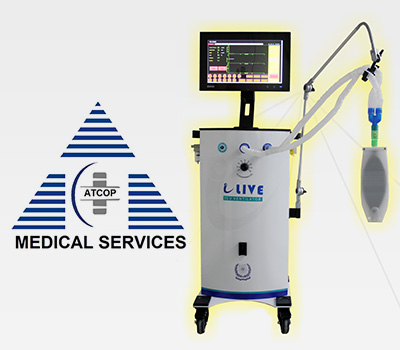 i-LIVE is a state of the art equipment to help patient in breathing.
Ventilator is the complex, lifesaving equipment used in intensive care unit (ICU). It is required when patient is unable to manage breathing on its own due to any respiratory problem. Ventilator creates the positive pressure to push air to the lungs for breathing. It can support or completely replace spontaneous breathing of the patient.
Features:
– Multi Ventilation Mode
– Touch Screen
– Alarms & Alerts
– ICU Ventilator
– Ease of Use
– Safe & Reliable
– Standards Compliance
– Multi-tier Safety
– Prompt Maintenance Support
| | |
| --- | --- |
| Ventilation Modes: | P-CMV, V-CMV, P-SIMV, V-SIMV, P-ACV, V-ACV |
| Breath rate: | 05-35 bpm |
| Inhale: Exhale: | 1:1, 1:2, 1:3 |
| Pressure range: | 10-60 cmH2O |
| PEEP: | 0-20 |
| Tidal volume: | 100 – 800 ml |
| FiO2: | 21% -100% |
| Parameters monitoring: | Yes |
| Alarms: | Audio, Visual |
| Safety valve: | 80 cmH2O |
| Patient type: | Adult/PEADS |
| Setting: | Touch key |
| Display: | Touch TFT color screen |
| Power Input: | 220V AC, 50Hz |
| Battery backup: | Yes |
| Microbes Filter: | Yes |
| Self Diagnostic: | Yes |
| Power switch cover: | Yes |